"

Grandstanding Pop Music" - Clash Magazine
"

Cinematic, like a soundtrack to a movie that doesn't exist yet" - Paolo Nutini
"

The songs are great… It's steeped in the early seventies and yet doesn't sound dated and the complex melodies already sound like bedsit classics" - John Robb
— Louder Than War
BIO
Jack Wakeman & The Dreamstriders is a Glasgow based Alt-Indie/ Art-Rock/ Prog-Pop band led by multi-instrumentalist singer-songwriter Jack Wakeman. A medieval bard who's got lost in time and space only to find himself in the 21st century. A high voltage neon tapestry weaving together pieces of the past and visions of tomorrow, a sunset disco in a stone circle, sonic heathenry at its finest, a cosmic renaissance man who's perpetual search for self and sound has no end. 
Born in Doncaster Yorkshire, Jack spent his childhood listening to the sounds of the 60s and 70s on his grandparents radio, his grandad having been in a band with Mick Ronson teaching Jack the guitar. 
After leaving school Jack moved to Manchester in 2013 where he worked as a session bass guitarist for members of New Order and The Fall plus BC Camplight and many others. After hundreds of shows, tours and festivals, 5 jobs, 4 flats, a couple of mental breakdowns and too many hangovers to mention Jack moved to Glasgow to form the first band under his own name in 2021 and after recruiting a band of local musicians his material is now brought to a live audience with the help of The Dreamstriders.
Jack's writing commonly focusses on his unique brand of apocalyptic optimism, a sense of impending doom, desperation and introverted isolation balanced by a sarcastic, tongue-in-cheek, honest and open mentality because music should be fun and theres no party better than the one just before the world ends. Musically, being influenced by everything from medieval choral music, early 20th century classical, 50s Lounge Jazz, 60s Baroque Pop, 70s Prog Rock, Funk, Disco, Folk. Everything from Bach to Beatles, Black Sabbath to Beethoven, Jack prides himself on being an exciting and unpredictable composer.
2023 has been a great year so far, the band's fourth single 'The Witching Hour' was released in March and quickly became their most played song. The band then hit the road in spring for their first ever UK tour that concluded with a sold out show at Glasgow's Nice & Sleazys.
The band will headline Glasgow's McChuills on December 15th to launch their anticipated debut EP 'The Twilight Zone'.
Latest Release: The Twilight Zone
OUT DECEMBER 1st
Tracklist;
Love: The Twilight Zone
Time Thief
Wheres My Place in the World
Morning Light
Double Vision Hyper Fantasy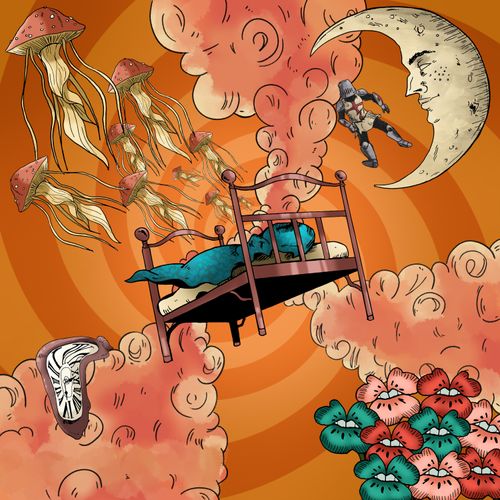 Love: The Twilight Zone
Jack Wakeman & The Dreamstriders
Wheres My Place in the World
Jack Wakeman & The Dreamstriders
Love: The Twilight Zone OUT NOVEMBER 17th
Have you ever felt broken like a McFlurry machine on a hot day?
Love: The Twilight Zone, an enigmatic anti-love song about being disillusioned with love.
Feeling burnt out and broken, Jack fresh out of a long term relationship, found himself falling into situations to fill the void that ended up hurting him even more. Jack's esoteric, tongue-in-cheek lyrics are carried by an upbeat, idiosycratic arrangement combining elements of Indie, Prog, Psych and Baroque music.
Recorded at Liverpool's Whitewood Studio in summer 2023 by Danny Woodward (The Coral, Ladytron, BC Camplight)